Marcus Vilaça, Chief Technical Officer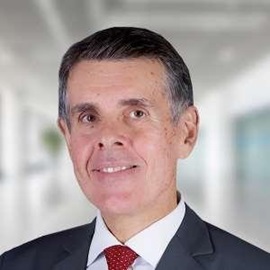 Marcus Vilaça is an accomplished satellite engineer with over 35 years of experience in the satellite industry. He currently runs the Engineering, Satellite Operations and Broadband Network & IT divisions at both Thuraya and Yahsat.
His long and successful career included hands on experience at Embratel, SES and Inmarsat. It encompasses all aspects of satellite communications systems engineering, such as the design of satellite systems for Fixed, Broadcast and Mobile applications, operating at L, S, C, Ku and Ka-bands.
He is a Fellow of the Royal Academy of Engineering, a Fellow of the IET, and a Chartered Engineer of the British Engineering Council. He holds an MSc degree in telecommunications systems from the Pontifical Catholic University of Rio de Janeiro and a Post Graduate degree in Economics from the School of Oriental and African Studies of the University of London.